About MPM, LLC.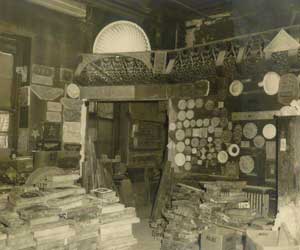 MPM, llc. is proud to be at the forefront of an exciting revival of the age-old art of ornamental plaster decoration. Our International Collection of original period mouldings (many dating to the 1850's) is the largest in the world; a proven, authoritative resource for designers, architects and contractors striving to produce credible period ornamental plaster work. We have carefully researched the architectural periods represented so that the building professional may refer to it with confidence. Since 1979, Monumental Plaster Moulding, llc. has been serving the building industry with the widest selection of decorative plaster mouldings in every style and including every element. We continue to develop new products to satisfy emerging market needs. We seek to encourage the use of ornamental plaster in construction by maintaining the standards and traditions that have so distinguished our historic buildings of the past. MPM, llc. ships custom and stock ornamental mouldings throughout the US and the world.
Lasting Elegance & Surprising Economy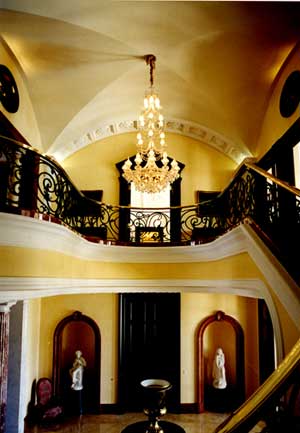 The growth of interest in ornamental plaster decoration is driven by a renewed appreciation for the functionality of this material. Ornamental plaster is lightweight, easily formed and can be engineered to produce massive profiles in long continuous lengths. It can be made to accept details and undercuts unmatched for depth and sharpness or to follow any curve or radius. By reinforcing cast plaster with fiberglass (called glass reinforced gypsum or "GRG"), steel or other materials, large, precisely formed units can be produced for quick installation. Ornamental plaster no longer needs to be fabricated in place with the attendant high labor costs, mess and down time required for fabrication and complete curing.
In short, ornamental plaster mouldings are still the designer's material of choice for defining wall openings and transitions between wall and ceiling, just as they have been for millenia. An extremely expressive material, moulded decorative work allows the interior designer unique control over the mood and impression of the space. It will accept most finishes, llcluding paints, foils and leaf. It will neither shrink, warp, burn nor produce toxic fumes. Truly, we have found nothing to surpass this versatile building material for safety, stability, economy, historical authenticity or beauty.
A Full Service Ornamental Studio 
With decades of experience, Monumental Plaster Moulding, llc. can bring a complete set of artisan skills to bear on your ornamental plaster project, whatever the challenge: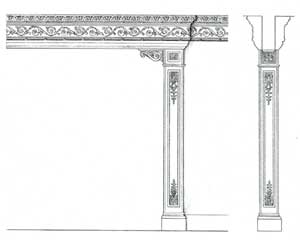 Design:  Our artists and designers can create original designs or adapt existing decorative work from our own extensive collection of plaster mouldings. We gladly help develop client design ideas.
Custom Fabrication & Reproduction:  We can reproduce work from any design or specification, llcluding commissioned artwork from your designs. We can fabricate work to follow any curve or radius.
Historic Reproduction:  We can exactly copy and reproduce ornamental plaster mouldings for replacement or use in renovations or additions or to replace existing historic mouldings too damaged to restore.
Installations:  Where there are clear client benefits, we can install our own work. It is sometimes most efficient for us to plan the layout, deliver the mouldings in sequence and install the ornamental plaster ourselves, in coordination with your project schedule.
Restoration:  Where important historic ornamental plasterwork has been damaged by time or neglect, we have developed time tested methods for restoring and stabilizing it, in place.
Our commitment to sound craftsmanship and creative solutions enables clients to order our ornamental plaster mouldings with confidence. To order mouldings online, consult our Order Form, Price List and Terms & Conditions documents on this web site. While primarily manufacturers, our dedicated staff is fully qualified to supply the expert support you need to help keep your project on schedule and on budget. Please feel free to call us to let us know about your ornamental plaster project. Use this link to order a free hardcopy version of our ornamental moulding Catalog. You may also view our work in some of our completed projects in the area, many of which are in commercial and government buildings regularly open to the public.
Sincerely Yours,
Monumental Plaster Moulding, LLC